Shipping Methods
We're in International business. Sometimes both of us hope the International shipping is just as simple as a pipe, we push boxes in one end, and you'll receive at the other end.
But the reality is much more complicated. Sometimes you may consider a lot before choosing a suitable shipping method, it includes shipping price, delivery time, weight limit, limited items, customs duties, parcels forced return back,etc. Have no idea how to choose a shipping method? No worries please, we're here for you.
We offer a variety of international shipping methods:
Shipping Method
Simple Introduction
EMS
Means Chinese EMS. Highly recommended.
Keywords: 40%-45% discount, 7-14 days, weight limit 30kg (66.14 lbs).
Airmail
Means Singapore Airmail.
Weight should be less than 2kg (4.41 lbs), the delivery time is about 15-40 days.
Air
Means Chinese Air.
Weight limit 20-30kg (44.09-66.14 lbs).
Shipping time is unstable, sometimes 1-2 months.
SAL
Means Surface Air Lifted,
Weight limit 20-30kg (44.09-66.14 lbs), takes about 1-3 months to arrive.
DHL
Means Beijing DHL or HongKong DHL.
Aramex
To most of the Middle East countries & regions.
eYouBao
Someone also calls it E-packet.
Weight should be less than 2kg (4.41 lbs).
Delivery time is about 3-15 days.
Fedex
It is a business express, the speed is fast, usually takes about 2-5 days for delivery.
EMS
EMS is the highly recommended shipping method for its fast, safe and reliable advantage. You can get a discount up to 40% off official EMS shipping rates. It usually takes 5-7 working days to reach most countries in Asia, Europe and America, 10-15 working days to Russia. During holidays, the delivery time will be longer than usual, and it differs from country to country.
Eyoubao
Eyoubao is a good choice for small parcels which is less than 2kg (4.41 lbs). It is the cheapest shipping method for small parcels and it is fast as EMS usually. Most times it takes about 3-20 days for delivery.
Singapore Airmail
Singapore Airmail is the second cheap shipping method for small parcels. It also has weight limit of 2kg (4.41 lbs), and the sum of length, width and height cannot exceed 90 cm. But the delivering time is a little longer, usually 15-40 days to arrive at the destination. The parcel returning process (returned from the overseas) also takes a long time, sometimes even one year long.
HongKong DHL
HK DHL in most times is more expensive than EMS, but faster and more stable. It usually takes about 3-7 days to deliver. If you have some important items to ship or you want to receive the parcels before a clearly specified time, DHL is a good choice.
DHL
DHL(Beijing DHL) is even faster than HongKong DHL, however also expensive than HongKong DHL. If you are very urgent to receive the parcel and you don't care about money then you can try with DHL. The delivery time is about 2-5 days.
Attention please: DHL has volumetric weight, which means if the volumetric weight is heavier than real weight, DHL will charge based on the heavier one. For example, you have a parcel which real weight is 6kg (12.23 lbs) but the volumetric is 9.5kg (20.94 lbs), DHL will charge you as 9.5kg (20.94 lbs). Here is the volumetric weight calculation formula: Length * Width * Height / 5000.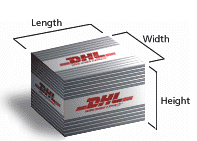 Chinese AIR
Chinese AIR is slower and cheaper than Chinese EMS. If you cannot use Singapore Airmail as the weight is more than 2kg (4.41 lbs), and you want a cheaper shipping then you can choose Chinese AIR. You may ask how about the speed? Um... it's hard to say. Before the detailed discuss, this picture will be help a lot.
As you can see from the picture, the Shipment & Delivery steps are stable, but Enqueue time is unknown.
SAL
SAL means Surface Air Lifted. Headache? You can try to read it as: Sea, Air, and Lands, then it's easy to understand.
Aramex
Aramex is fast, and shipping fee is also lower than EMS and DHL to middle east countries. But the security checking is very strict, some countries import needs a series of documents. You can consult us in advance if you want to have a try.
Countries that Aramex serves:
United Arab Emirates, Kuwait, Saudi Arabia, Turkey, Egypt, Israel, Sri Lanka, South Africa, Bahrain, Iran, Iraq, Oman, Qatar, Cyprus, Jordan, Lebanon, Syria, Yemen, India, Bangladesh, Pakistan, Kenya, Botswana, Swaziland, Uganda, Tanzania, Lesotho, Burundi, Rwanda, Sudan, Seychelles, Zambia, Algeria, Libya, Zimbabwe, Ethiopia, Mozambique, Madagascar, Mauritius, Morocco, Namibia.
Fedex
Fedex is a business express, the shipping speed is fast, usually takes about 3-5 days for delivery. It has some limitation to some countries, you can also consult us in advance.
Just feel free to email us if you still have any confusing about some shipping methods.
What our Members Say
42agent is the best agent I have ever ordered with. Trust me you will not be disappointed. Processes super fast, contacts you with any problems or concerns, responds within a day or instantly if they are on messenger, shipping fees/service fees are low, provides tracking, sends picture of items before sending ...
42agent Review|Customer Feedback
Start a Shopping Trip
Share Wonderful Moments with the World
Satisfied with 42agent service?
Write Review to Obtain Coupons
or Share with Friends